The Spanish Food and Drink Industry Federation (FIAB) together with the Energy Resources and Consumption Research Center (CIRCE) have begun to develop the first phases of the INDUCE project: Towards a sustainable agri-food industry, a project that aims to promote the capacity of food and beverage companies in energy efficiency through a specific program for each company, so that their training is designed according to the needs and opportunities of the company.
The methodology and tools developed in this project are going to be tested and validated in 15 pilot companies of the agri-food industry located in Spain, France, the Netherlands and Germany. The five Spanish companies participating in the INDUCE project are Aves Nobles S.L, Camposeven, Carinsa S.A, Go Fruselva S.L. and Mahou S.A.
The past 17th and 20th July began the first actions in Aves Nobles S.L and Carinsa S.A respectively. During the development of these days we were able to know first-hand the day-to-day of the industries and we talked with the people responsible about the production processes and the steps that are carried out to promote the efficient use of energy.
Through these tasks, it is intended to promote the generation of a culture of energy efficiency in companies, not only through the transfer of knowledge, but also motivating change models in their behavior and organization. Through promoting a propitious environment to a change in the company and its employees in terms of sustainability and with a Human-Centered Design approach, the best practices and steps, that will be implemented and designed along with the companies.
Biomass is crucial for the (extensive) decarbonisation of the energy system and the replacement of fossil and energy-intensive materials. So how can future innovation measures of stakeholder positions be defined?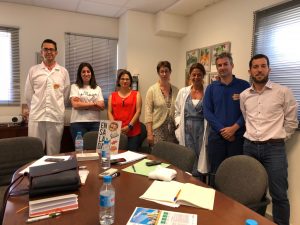 Author: FIAB
Links
http://fiab.es/el-proyecto-induce-lleva-a-cabo-las-primeras-pruebas-en-empresas-de-la-industria-alimentacion-y-bebidas/
http://foodforlife-spain.es/primeras-fases-proyecto-induce-industria-agroalimentaria-sostenible/